"Hosting a contest is an excellent way for creators to increase visibility, engage with the superfans 
community, and generate new ideas and opportunities."
With so much content being produced by so many creators, how do you stand out from the competition? Online contests are a great way for creators to make their mark and can be incredibly effective at engaging audiences!
Contests and raffles are excellent ways to gather people around you and get them talking about your brand. Here are some benefits of hosting a contest or raffle on your FANCLB as well as some tips and tricks for making the most of these events.
Benefits of contests for creators
Increase Visibility
Contests and raffles can help you get your work in front of a wider audience. Creating a bigger exposure for your brand while driving traffic to your FANCLB. It will also help you get more followers on social media, which is important for SEO purposes.
Once someone enters a contest, they're likely to come back again and again. Not only do you have access to their emails, but you also know what intrigues them. This helps you convert them along your sales funnel, from audiences to followers and superfans.
Keep Superfans Engaged
Contests create a fun experience, which can drive up the number of entries and engagement on your FANCLB and give your devoted superfans a chance to win something.
Build A Community
Contests give you the opportunity to interact directly with your existing superfans and build a sense of community around your work. This is especially useful for creators who reach their audience through social media or other online platforms.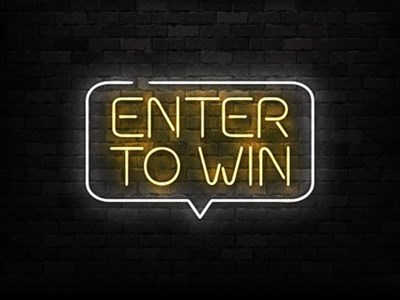 Promote New Work
Contests can help you show off your skills while generating buzz and anticipation for your new work. For example, a creator could offer a sneak peek or early access to their new book or album as a prize for the contest or raffle.
Generate Money
When done right, contests can be very profitable and will also help you attract sponsors and create new contacts.
Tips and tricks for creators to host a successful contest on FANCLB
Make it easy to enter:  Simple and straightforward entries will encourage more people to participate.
Set clear rules: Make sure to clearly spell out the rules for the contest, including how to enter, what the prizes are, and how the winners are automatically selected, so there is no favoritism. This will help prevent misunderstandings and ensure that the contest is fair.
Offer enticing prizes: Offer prizes that will be appealing to your audience and encourage people to enter. This could be something related to your work, like a signed copy of your book or a personalized piece of art, or something more special, like a once-in-a-lifetime experience with you. You can also use products and gifts you got from your sponsors 
Promote the contest: Use social media and other channels to publicize the contest and entice participants. Make sure to use hashtags and tag relevant accounts to help get the word out.
Best techniques for creators to monetize contests
At FANCLB, we assisted in and activated thousands of successful contests. From our experience, the most profitable ones are what we internally call "Double Dips." These are the contests where entries are tied to selling physical products or digital content and services like merch, membership, social media shoutouts, face-to-face calls, personalized videos, etc.; the list goes on. These contests will boost your sales and give everyone a chance to win something bigger.
Conclusion
Hopefully, we've shown you the value of launching a contest on your FANCLB. It can be an incredibly valuable tool for not just promoting your content but also building your audience and growing your brand. And finally, at FANCLB we make launching contests really easy:
Once you set the date and time, everything is automated.
All participants receive customized emails from you to help you build goodwill and encourage people to participate in future contests or raffles.
The winner is automatically selected, notified, and announced.