What is Printful?
Printful is an on-demand printing and fulfillment company that helps people turn their ideas into brands and products. Printful is an excellent option for creators who want to sell their own branded merch without worrying about inventory, shipping, and logistics.
In order to view the Printful catalog on the Fanclb dashboard and start designing and selling your merch directly from your Fanclb, you need to have a Printful account.
Steps For Creators To Connect Their Printful Account To FANCLB
Once you've made a Printful account and added your credit card, you'll need to make an API key and add it to your FANCLB. Here is how:
use your Printful logins
under Private Token, click on "Create a token"
Fill in the Token name (ex: Fanclb Printful), add your email, and set an expiration date for your token
**P.S. Please note that your token will expire at the date you set and you will need to regenerate another token and reconnect to your FANCLB
In the Access level section, select "A single store" and select your store from the drop-down menu
In the "Scopes" section, please check all the boxes
click on the blue "Create new token"
Click on the icon to copy the new access key
Go to your FANCLB dashboard and log in with your admin credentials
From the menu on the left click on "Settings" then go to "Integration"
Go to the "Merchandise" section, Choose Printful and click on the "Add Your Printful API Key" field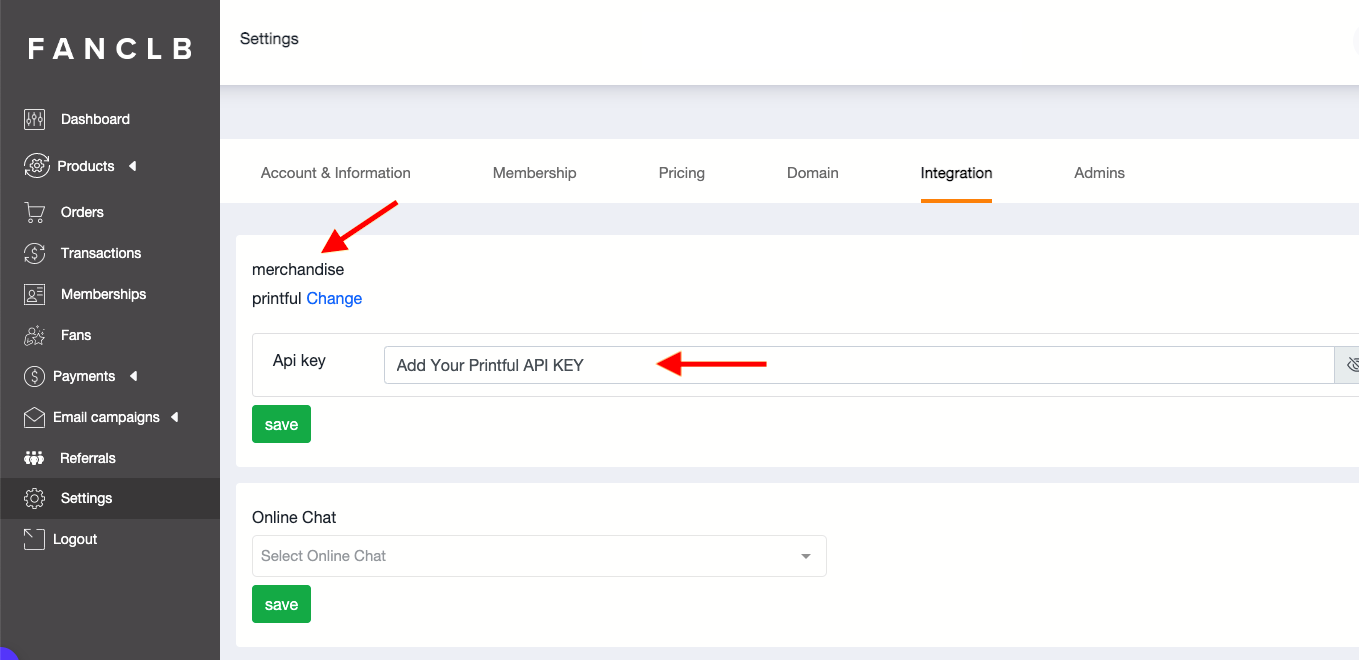 Paste the API Key that you copied from step 8 and click "Save"
You are all set! Now you can go to the Merchandise tab, and once you click on "Add New," you will be able to see the Printful catalogue and start designing your own merch.